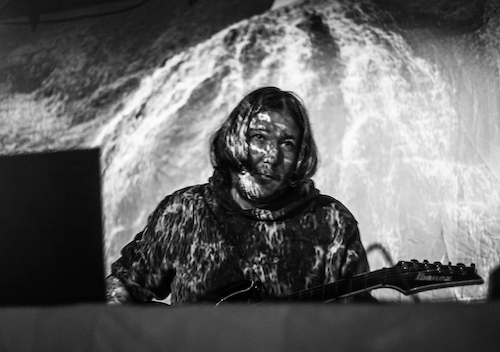 Mirian Kolev(born 1982,Bulgaria) is а musician, composer and multidisciplinary artist, who lives in the Mountain of Bulgaria and works in experimental,electroacoustic, ambient, improvisational music sphere and sound art.His main activity is related to his solo drone ambient project E.U.E.R.P.I. and he has taken part of many festivals and stages around Europe and Asia. He is also doing collaborative shows and projects with other musicians, visual artists, dancers, performers and compose music for art installations, videos and dance performances. His music is minimalist, atmospheric and discreetly psychedelic, and improvisation is an essential part of each of his live performances, turning it into an expressive soundtrack of time and space. At times his music is gloomy, at times cosmic, and melancholy is often present in it, as is the world around him.
 
Mirian Kolev has worked on collaborative projects with visual artist like Akiko Nakayama(Japan), KOTKI Visuals(Romania), Adistu(Romania), Aural Eye(Romania), Q Pop(Ireland), Laurenz Theinert(Germany), Vladislav Iliev – Vladzen(Bulgaria), Albena Baeva(Bulgaria), Todor Warp(Bulgaria), Lita Poliakova(Russia), Nandor Maller(Hungary), Na Da(France), Alexandar Lazar(Serbia), Ole Meergans(Germany)
with musicians like Emil Biljarski(Hungary), Tamsaule(Lithuania), Davaajargal Tsaschikher(Mongolia), Fluidian(Romania), Han Joo Lee(South Korea), Michael Bruckner(Germany), Thomas Maos(Germany), Kurt Holzkamrep(Germany), Lucie Pachova(Czech Republic), Erik Bosgraaf(Netherlands), Ned McGowan(USA), Youmna Saba(Lebanon), Omar Benassila(Morocco), Eloise Gynn(England), Hyunpill Shin(S.Korea), Yoona Kim(S.Korea), Tengger(Japan/ S.Korea), Sanja Ivkov(Serbia), Manja Ristic(Serbia), Petar Momchev(Bulgaria), Svilen Ivanon(Bulgaria), AuroraX(Bulgaria), Martian Tabakov(Bulgaria), Yoana Robova and Petar Parmakov(Bulgaria)
with dancers/performers like Ganzug Sedbazar(Mongolia), The Crew Dance Productions(Austria), Maria Mora, Lia-Cristiana Marin, Maria-Beatrice Tudor(Romania), Stanislav Genadiev and Violeta Vitanova(Bulgaria), Iskra Ivanova(Bulgaria), Katina Dishkov(Serbia/Bulgaria), Natasha Vergilio(Brazil)
with choreographers like Simona Deaconescu(Romania), Yanghee Lee(S.Korea), lLee Jung In(S.Korea).
Selected performances and participations:
2023
Tallinn Music Week - Tallinn(Estonia)
Plant/Human Duo at Toplocentrala - Sofia(Bulgaria)
SONIC NARRATIVES - Timisoara(Romania)
Innerscape AV performance with Adistu - Archeological museum - Veliko Tarnovo(Bulgaria)
Ghost Villages AV performance - Cinema House - Sofia(Bulgaria)
Concert at Maunula Talo - Helsinki(Finland)
Concert at A4 - Bratislava(Slovakia)
Soundscape Stories with Veronika Tabakova and Georgi Bozhilov - Toplocentrala - Sofia(Bulgaria)
Concert with TENGGER - Alarma Punk Jazz Series at Singles - Sofia(Bulgaria)
2022
Jam Jam - music/dance performance with Yanghee Lee - Seoul Dance Center - Seoul(S.Korea)
SIEAF Festival - Jollanam-do(S.Korea)
Innsaevi Festival - Neskaupstadur(Iceland)
180 Degrees Laboratory For Innovative Art Festival - Sofia(Bulgaria)
EXIT Festival - Novi Sad(Serbia)
Composed music for "Identifier" - dance movie
Concert at Punctum Krasovka - Prague(Czech Republic)
Mutant Radio - Live session - Tbilisi(Georgia)
Kiosk Radio - Live Session - Brussels(Belgium)
Radiophrenia Radio Art Festival - Glasgow(Scotland)
2021
Extreme Chill Festival – Reykjavik (Iceland)
Amural Festival – Brasov (Romania)
WATER – Contemporary art festival – Burgas Bulgaria)
Art-Nature Symposium – Gabrovtsi (Bulgaria)
Ghost Villages Solo Exhibition – Kazakov Gallery, Tryavna (Bulgaria)
Den Avantgard Series – Improvisational concert – Lampion Gallery, Sofia(Bulgaria)
Kontempora – Multidisciplinary Residency – Kuystendil(Bulgaria)
2020
Process Space Art Festival – Balchik(Bulgaria)
Ars Elctronica Festival – as part of DARV_Abandoned Land, Intermedia Dance Performance – Linz
(Austria)
Paradise Art Lab Festival – as part of Wondering Islands, mixed reality exhibition – Seoul (Korea)
Music for "Encounters" – Contemporary Dance Performance – Ulan Bator (Mongolia)
Europske Kulturni Dny – Kino Varsava – Liberec(Czech Republic)
"1m2 art" solo exhibiton – Failure, photography – sound installation - TAM, Veliko Tarnovo (Bulgaria)
2019
Alarma Punk Jazz Fest - with Manja Ristic, Bulgarian National Radio, Sofia(Bulgaria)
Tripoteca Festival - Toulouse,(France)
FIAT Festival Festival for International Alternative Theatre - Podgorica(Montenegro)
Generate Festival - Tubingen(Germany)
Alternative Film\Video Festival - with Manja Ristic, Belgrade(Serbia)
Dym Festiwal - Gorzów Wielkopolski(Poland)
MArt Festival -- with Manja Ristic, Bioskop Balkan, Belgrade(Serbia)
Performance at MODEM Contemporary Art Museum – Debrecen(Hungary)
"Lomea" collective exhibition – Failure, photography – sound installation – Eco Museum,
Ruse(Bulgaria)
2018
Ars Electronica Festival – as part of Spaces Alive project, Linz(Austria)
Offcity Art Residency – Pardubice(Czech Republic)
CAMP Festival - festival for visual music – Stuttgart(Germany)
Performance at Bogd Khan Palace Museum – Ulan Bator(Mongolia)
2017
Self-Evidence project – Hwaeom Spiritual Music Ritual, Hwaeomsa Temple(South Korea)
"Alive Painting" - audiovisual performance with Akiko Nakayama – Dom na kinoto(Sofia)
CAMP Festival - festival for visual music - Sofia(Bulgaria)
Series of multidisciplinary performative interventions "Spaces Alive" - Bucharest(Romania)
Night of Museums and Galleries - City Gallery,Varna(Bulgaria)
2016
Radar Festival Beyond Music(Bulgaria)
Cave concert at Art Simposium "Lomea"(Natural park Rusenski Lom/Bulgaria)
Yaga Gathering open-air festival(Lithuania)
Waha Festival(Romania)
Process Space Art Festival(Bulgaria),
Tripoteca Psychedelic Film and Art Festival(Romania)
Sonic Dreams Festival - Waterford(Ireland)
2015
Audiovisual collaborative performance at God Goes Deep event- National Cathedral of
Denmark(Copenhagen/Denmark)
Global Chil-Out Festival(Czech Republic)
In The Palace - International Short Film Festival(Bulgaria)
The old school art residency - Gorna Lipnitsa(Bulgaria)
2014
Midnight Sun Festival(Lofoten Islands/Norway)
Jazz Readings" National Book Fair(National Palace of Culture/Bulgaria)
Artmospheric Festival - Balkan Mountain(Bulgaria)
Alarma Punk Jazz Fest - Sofia University - Sofia(Bulgaria)
2013
International Digital Arts Festival(DA Fest) - Sofia(Bulgaria)
Night of Museums and Galleries - Plovdiv(Bulgaria)
Sofia Underground Performance Art Festival(Bulgaria)
Artmospheric Festival - Balkan Mountain(Bulgaria)
Tangra Eco Art Dance Festival - Sandanski region(Bulgaria)